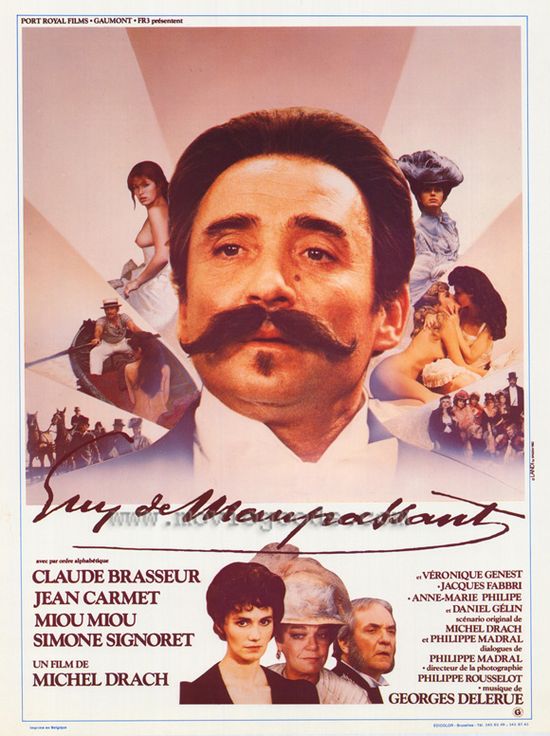 Year: 1982
Duration: 01:23:16  &  44:56
Directed by: Michel Drach
Actors:  Claude Brasseur, Jean Carmet, Miou-Miou
Language: French
Country: France
Also known as: 
Description: 
I'm sure Guy de Maupassant wasn't meant as an exploitation movie but as a serious biopic about the last years of the famous writer and his slow descent into madness. It has a respected director and many respected actors such as Claude Brasseur in the lead role, Jean Carmet as his manservant, Miou-Miou and Véronique Genest as some of his numerous lovers and even the great Simone Signoret as his mother.
Somewhere along the way, something went wrong. The makers focused on Maupassant's sex life and, in the second part, his syphilis induced delirium, and the result is plain to see : however good the actors and the intentions, there is so much nudity, sex, including lesbian scenes, and outrageous behaviour on screen than what should have been praised by critics all over France was in fact reviled for having jumped right in the territory of those incredibly sleazy movies that make you wonder : « What the hell were all those people thinking when they agreed to do this ? » such as Mandingo or Caligula.
This is a VHSRip and it's pretty rare on the web. When I remembered the existence of this movie and wanted to upload it here, I had to go on emule to find it (and in two parts too). Some more research revealed the existence of a DVD, released last year and just safe to be upped here, but I couldn't find any rip of it. Maybe it will appear sometime in the future and I or someone else can upgrade this torrent. In the meantime, this is the best we have.
Thanks to the person who ripped this and to the (very few) anonymous chaps who seeded it on the mule.
In French with no subs.
Screenshots:
Download: