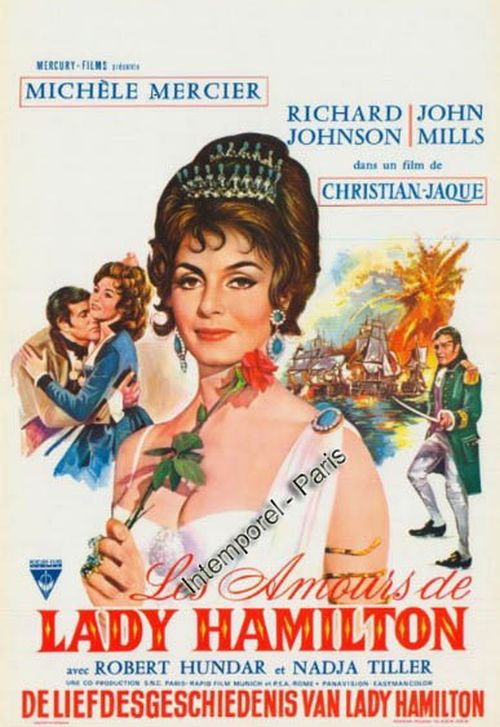 Year: 1968
Duration: 01:33:57
Directed by: Christian-Jaque
Actors: Michèle Mercier, Richard Johnson, John Mills
Language: English
Country: Italy | West Germany | France | USA
Also known as: Le calde notti di Lady Hamilton, The Making of a Lady, Lady Hamilton – Zwischen Schmach und Liebe, Os Amantes de Lady Hamilton, Lady Hamiltons hede nætter, Los amores de Lady Hamilton, Lady Hamilton, Les amours de Lady Hamilton, Emma Hamilton, I laidi tis amartias, Lady Hamilton – Zwischen Schmach und Liebe
Description:Les Amours de Lady Hamilton a.k.a « Emma Hamilton » a.k.a. « Le calde notti di Lady Hamilton » is a French-Italian-German-American co-production, which means it doesn't really have an original version, since some actors are dubbed whatever the language.
Lady Hamilton was, of course, admiral Nelson's bride, and the story is a well-known classic : beautiful shepherdess has many adventures while sleeping her way to the top. But who cares about all this ? The important thing is : Michèle Mercier (Black Sabbath) plays Lady Hamilton.
After she starred in the five cult « Angélique » movies, Mercier was somewhat typecast since this is really similar, although distinctly cheaper (as many late Christian-Jaque movies are) and fully deserving the exploitation tag. The movie is certainly entertaining, especially since Emma Hamilton appears in countless revealing outfits (although I suspect the use of a body double for the one fully topless scene) and even has a (tame) lesbian scene, but it's no masterpiece, and its obscurity more than justifies uploading it here.
Screenshots:
Download: