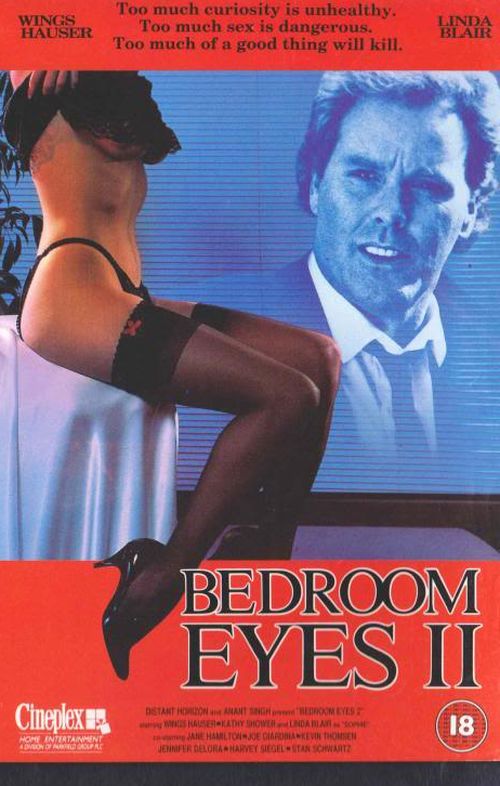 Year: 1989
Duration: 1:32:50
Directed by: Chuck Vincent
Actors: Wings Hauser, Kathy Shower, Linda Blair, Veronica Hart
Language: English
Country: South Africa, USA, Canada
Also known as: Augen der Lust, Gli occhi indiscreti di uno sconosciuto II, Olhos da Vingança, Plaisirs mortels 2
Description:
IMDB comments are loaded with spoilers, certain aspects of the movie are very predictable yet it would still piss me off to read them. I avoided this movie for awhile, bad memories of the original plus a vague impression that it would be one of those soft porn/romance movies masquerading as a thriller – you know, the kind that usually had Shannon Tweed in them? Nope, it's a supsense movie, though it kind of wimps out at the end….it didn't even bore me.
From Joe Bob's Drive-In on TMC, the bad point of that is less Joe Bob than on Monstervision (boo!), the good point is gore/boobies.
Harry (Wings Hauser) is a stockbroker with a lot of problems. His sleazy partner has decided to bail out their business with client's money…his fragile art dealer wife Carolyn may be having an affair with her star pupil…..his marriage is haunted by the mysterious death of his first wife. Plus, psycho JoBeth has just gotten out of prison and threatened revenge on him for the testimony that put her behind bars.
Seeking relief from these stressors, Harry goes to the aquarium for a little relaxation, where he meets Sophie (Linda Blair) who bears an uncanny resemblance to his deceased wife. Before long mysterious events occur and a few bodies pile up. Who's behind it all? What REALLY happened to Harry's first wife?? Which of these people isn't secretly a lunatic? Will all of the major female characters take off their tops? (er…yeah.)
Stars Wings Hauser as Harry, Kathy Shower as his wife, Linda Blair as Sophie, Veronica Hart as JoBeth, Joe Giardina as Harry's unethical partner, Harvey Siegel as a cop, and some other people as various things. Directed by porn/sleaze dude Chuck Vincent.
Screenshots
Download