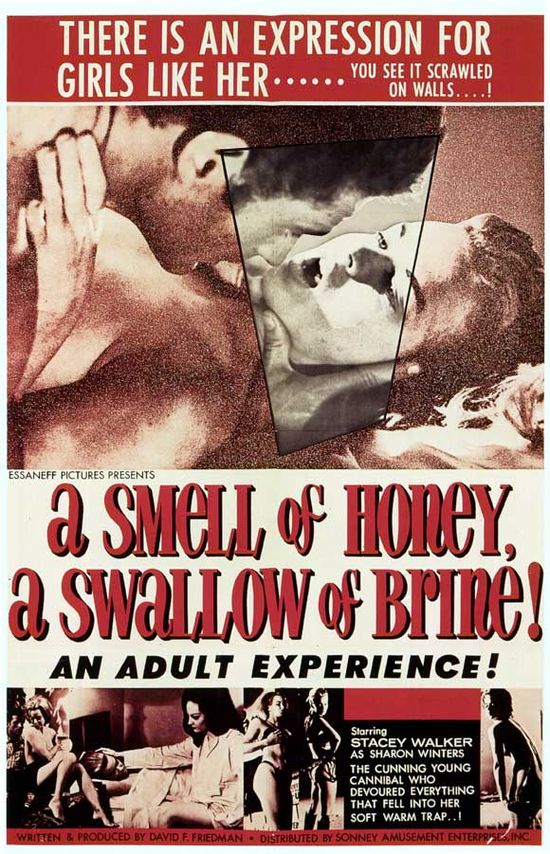 Year: 1966
Duration: 01:08:44
Directed by: Byron Mabe (as B. Ron Elliott)
Actors: Stacey Walker, Sam Melville, Bob Todd

Language: English
Country: USA
Also known as: Croqueuse d'hommes, A Smell of Honey, Maneater
Description: 
Ladies and gentlemen! Step right up and witness the story of Sharon Winters (STACEY WALKER), a "cunning young cannibal who devours everything that falls into her soft, warm trap." A Smell of Honey, A Swallow of Brine is the blistering saga of a sun-soaked sex kitten, a she-creature who only gets satisfaction out of teasing red-blooded men into a state of near madness, only to suddenly yell "Rape!!!" Later, her post-game reaction is to laugh like a chimpanzee over the whole scene.
The film charts a trio of innocent men who are lured into Sharon's web and meet cruel fates. One is arrested for attempted rape, another is fired from his job and "disappears in shame." The last man (SAM MELVILLE, who would go on to star in the TV show The Rookies) is driven to such erotic desperation that he dreams about whipping and getting castrated, then tries to rape another woman and is shot dead by her husband!
Lest we forget, A Smell of Honey is, of course, a sexploitation film, written from (and for) a male point of view. Sharon therefore has to receive a comeuppance and meets her match when some blue-baller beats the snot out of her. She ends up forced to work for him in the world's oldest profession (and is picked up by writer/producer DAVID F. FRIEDMAN in his second of two — count 'em! — cameos).
Stacey Walker (real name Barbara Jean Moore) was discovered by Friedman while sleeping on a Santa Monica beach. He offered her a starring role in The Notorious Daughter of Fanny Hill (1966) and tied her up with a contract so she couldn't work for any of his competitors. (Al Zugsmith actively tried to lure her away.) She's perfect in A Smell of Honey as the crotch-burning Date from Hell, especially when informing her lesbian roommate that, "I may be a bitch, but I'll never be a butch! Ha! Ha! Ha! Ha! Ha! Ha! Ha! Ha! Ha!"
Screenshots:
Download: