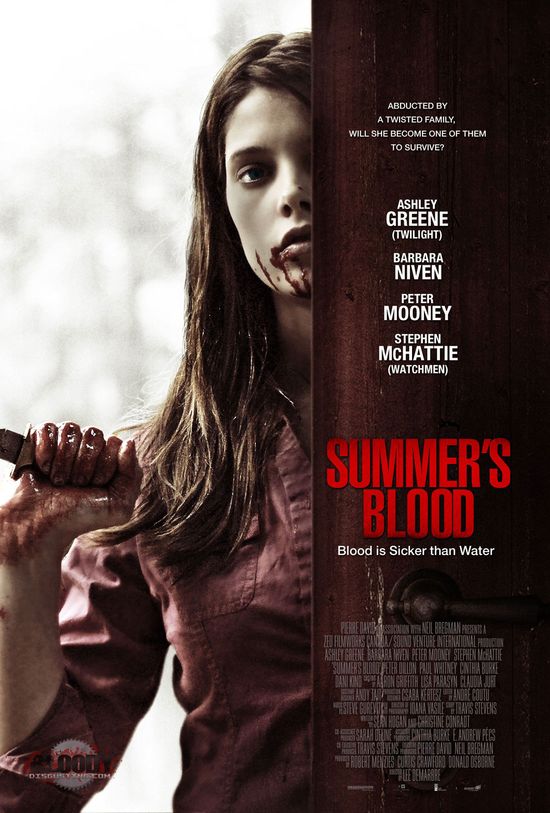 Year: 2009

Duration: 01:29:21
Directed by: Lee Demarbre
Actors: Ashley Greene, Peter Mooney, Barbara Niven, Stephen McHattie
Language: English
Country: Canada

Also known as: Summer's Moon
Description: The rebellious teenager, Summer Matthews, finds out her mother's secret – her unknown father is alive – and she decides to seek him out. She hitchhikes to a small village called Massey with an old picture of her father, expecting that someone might identify him. When she arrives in the community, she shoplifts from a store but the local sheriff sees her and chases her. However Tom Hoxey helps her to flee and they go out on date that night. Tom takes her home where he lives with his mother, Gaia, and they have one night stand. The next morning, just as Summer is ready to go, she finds out that Tom is not quite the perfect gentleman.
Review: I do not like movies about maniacs. Therefore came to this film I do not happen to read a summary or reviews. If read, you probably did not look like, and for good reason. Movie was good, exciting and keep on their toes during the entire show.
Pretty girl named Summer (played by Ashley Greene, known around the world for playing vampire Alice in "Twilight") hitchhiker. A fairly common way of traveling in the U.S., according to American movies. The girl is looking for his long-lost father, the existence of which she recently learned. Summer is the same scruples – she travels with pistol in a bag, in the shops and stealing, not thinking, heads home with a first met her boyfriend. It is also going to rob the morning and went on to find his father. But her plan violates a new acquaintance, who turned on his head sick bastard. Obviously, maniacs are also quite common in the U.S..
Directed by Lee Demarbre, who also filmed Smash Cut
Screenshots:
Download: