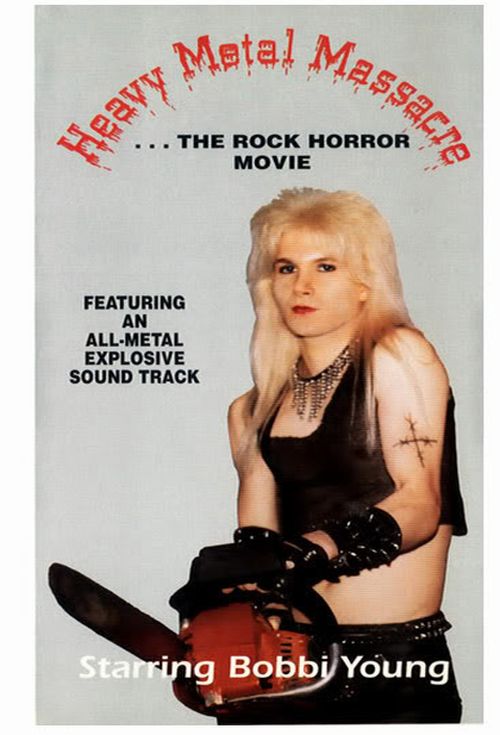 Year: 1989
Duration: 01:23:31
Directed by: Steven DeFalco, Ron Ottaviano
Actors: David DeFalco
Language: English
Country: USA
Also known as: Not Available
Description: After searching and searching for something to upload that's not already on wipfilms, I came across what is easily the rarest VHS in my collection, Heavy Metal Massacre, the über-suckfest, shot-on-video, first film by David De Falco (The Back Lot Murders, Chaos).  I'm fairly certain this is something I ordered 20 years ago out of a classified ad in an old Fangoria magazine, and is so rare that I was only able to find one reference to it online.
from zoominfo:
Quote:
As the son of an East Coast politician, David grew up far removed from the entertainment industry, though his creative fires had been stoked as a youngster by such drive-in classics as
TEXAS CHAINSAW MASSACRE
and NIGHT OF THE LIVING DEAD."I was always into movies and as a kid used to do plays and make home movies with an 8mm camera." By 1988, he produced his first film on the East Coast, a rock horror slasher flick called HEAVY METAL MASSACRE. "It was technically flawed," recalls David. "I was in my early 20s. We had no money. We made it for $20,000 – an insanely low figure. But, I used the movie as a publicity tool." The movie received enough exposure to help the young filmmaker get his first break when he moved to Los Angeles in 1992.
$20,000?  Well, I'm not sure what happened to the other $19,900 of this budget because I sure can't see it on screen.  The production values, acting, dialogue, music, and cheesy video effects  make me want to go watch porno, which would look like high art compared to this schlockfest.  The rarity of this movie and the fact that De Falco went on to make the somewhat controversial Chaos are about the only things to recommend Heavy Metal Massacre.
Screenshots
Download