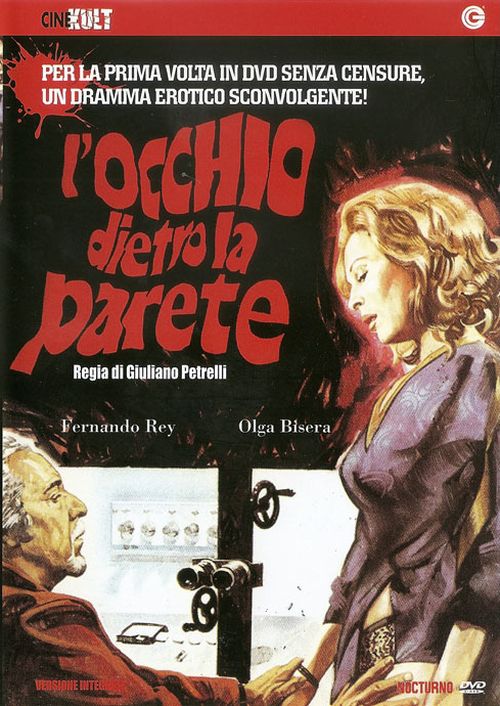 Year: 1977
Duration: 01:14:41
Directed by: Giuliano Petrelli

Actors: John Philip Law, Fernando Rey, Olga Bisera

Language: Italian (English subs)

Country: Italy

Also known as: The crystal man, L'occhio dietro la parete

Description: Psychotic thriller from director Giuliano Petrelli its name and the subject openly appealed to Hitchcock's masterpiece "Behind the Wall" That's only one though and is considered the "King of Terror" and his interest in the dark side of the human personality has never hidden, yet was much more cautious in the piling of phobias and mental deviations per unit of screen time. In «L'Occhio dietro la Parete» ponameshano also much that even standouts psychiatric department medical academy at first sight does not work out whether this is such abnormal characters, or the authors of the picture as you work on it went to the roof. Or actually wrong those doctors who say that healthy people do not exist – there nedoobsledovannye.
Among the actors' eyes behind the wall "there really is not anyone who does not suffer from some form of mental disorder. Ivano aging writer (Fernando Rey), who lost in a car accident the ability to live a normal sexual life now finds inspiration for a voyeurism for his lodger Arturo, for which the whole set in the wall of the video system (looking for the 70's very futuristic.) His wife, Olga (Olga Beazer) also shares his passion (and what else to do with her husband, a cripple!). Their butler Ottavio simultaneously fetishist and pedophile, lured to their networks of adolescent girls. But the worst has to Arturo (the same one tenant Olga and Ivano) – not only is it a hidden homosexual, so more and necrophiliac experiencing a compulsion to murder during sexual stimulation. And among this panopticon customers for asylum will Giuliano Petrelli played a dramatic story with a sudden outbreak of love (Olga and Arthur – no one else …), falling out of the closet skeletons of the past (history Ivano jealousy for his son, who had the adultery with his young wife, and died in the same accident), kills (Arturo reaches the blood trail), betrayal (Ottavio – the main villain in this story), etc., etc.
Indeed, all of the above is enough to understand that Hitchcock – baby talk compared to what is piled Signor Petrelli. And his compatriot Alberto Kavallone his surrealistic distortions to the author's imagination «Eyes Behind the Wall» far. True, it is really a surreal in this picture there is no if, of course, not be regarded as such videoapparat Signor Ivano, more reminiscent of a hyperboloid. But the erotic scenes – more than enough for even a fairly cut version, whose duration does not exceed 70 minutes. I doubt that the original version of the film was so short. Well, of course – with such a plot. There is even a homosexual scene in a movie 70 occurs not so often.
That's just no erotica can not save the film if it is not sane script and director is not even trying to make ends meet. If it's a thriller – say, where you have to worry … If the psychological drama – well, at least the crumbs confidence in it need to be? If erotica – why most of these episodes is disgusting? Shock the viewer to 1977, the year had been many – here Giuliano Petrelli obviously late. True, somehow he managed to bring to the project a good cast, which, as can clearly embodies the crazy story. But this is clearly not enough to breathe life into his creation.
However, for collectors of all kinds of weird-movies «The eye behind the wall" may be of interest. Let the spectacle it promises far less "cinematic" as a work of the same period Kavallone surreal, even the director of Giuliano Petrelli turned APB (in fact, this painting his entire career and limited) – but the collection of mental health problems are such that any madhouse envy!
Screenshots:
Download: