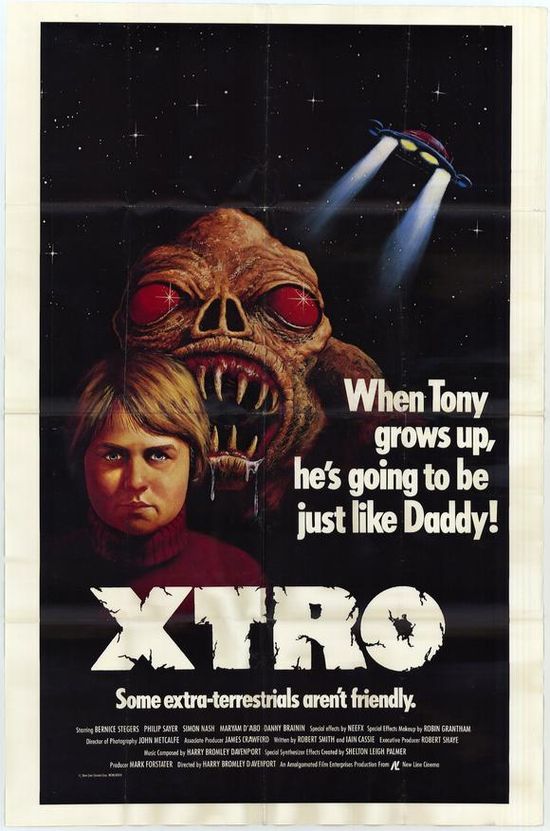 Year: 1983
Duration: 01:23:30
Directed by: Harry Bromley Davenport
Actors: Philip Sayer, Bernice Stegers, Danny Brainin
Language: English
Also known as: X-tro, Xtro – Extraterrestre, Xtro, attacco alla Terra

Description: Daddy of a little boy was abducted by aliens in fron of his son, and his mother did not believe boy's narrated stories, she decided that her husband just left her. Since then, three years have passed, mother haa a new roommate, but the guy still believed that the real dad will come back. And he came back, being, however, not the same as before …
Review: Unusual pattern even for its genre. Actually describe a genre of film is extremely difficult. The film has drama: the destruction of the family, and the ending of the film and did amazing. And mysticism with science fiction: it is unclear where the undertaken aliens abduct people do not know why, then returns some hideous creature on earth. And also the art haustny surrealism and of course treshevye scene. In the end, is not that unlike a cocktail called "Xtro."
From a happy family extraterrestrial intelligence kidnap Sam – head of the family when he was walking with his son, Tony goes the roof child has a psychological connection with the vanished father. Sam's wife without hesitation gets himself another man. However, three years later, Sam appears and exits through the psychological connection to his son Tony, and then through him and his family.
We must pay tribute to the 80's in the film are good and decent special effects horrible and nasty things. That only is the scene where the alien creature infects the girl and she gives birth, or regenerate a creature that appears in the guise of a missing Sam.
"Xtro" is very bright and varied on the characters, each character is original. For example, the father Sam charismatic and mysterious personality. Then, charming and a young servant girl, who lives with his family and gives the film its poignancy by the explicit scenes and romance with her lover. John, the new man's wife Sam brash and impulsive enough – which is the opposite of his father the family of Sam. And boy, Tony, freckled child weirdo.
Also in the film are present and sufficiently unusual characters. Manual and exotic snake boy (it should be fairly original pet for a child). Which kills the neighbor. Then take possession of an alien boy and Tony become a villain for a decade beginning he will revive his toys to those performed menial tasks and avenged offenders. So for example come to life toy soldier, charismatic clown with a deadly yo-yo and a toy tank that will chase a man across the room shooting to kill him. All this damn diversifies and color film.
"X-tro" is quite difficult for the pattern that is clever plot when watching that come to think, but overcame a breeze. Interesting unpredictable and mysterious film with a multi-faceted story, brutal and bloody scenes, as well as vibrant and diverse characters. "Extra" a rare representative of the art haustnogo movie with a touch of the surreal, this movie is an acquired taste, respectively, the film is not every viewer will, and those who will be pleasantly surprised and pleased I am to this category.
Screenshots:
Download:
Xtro 1983 ( Extra – Alternate Ending 2)
Xtro 1983 ( Extra – Alternate Ending 1)