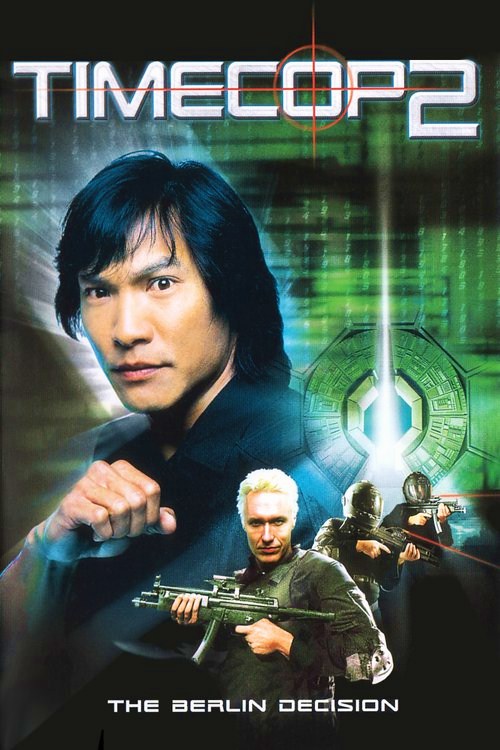 Year: 2003
Duration: 77 minutes
Directed by: Steve Boyum
Actors: Jason Scott Lee, Thomas Ian Griffith, & Mary Page Keller
Language: English
Country: USA
Also known as: Timecop 2: The Berlin Decision,  Időzsaru 2. – Verseny az idővel, Timecop 2 – La décision de Berlin, O Guardião do Futuro

Description: Hero Ryan Chan, a police officer's time, whose job is to prevent crime by traveling to the past from the future. Unfortunately, the criminal mind Brunson is plotting a conspiracy to use the past as a weapon for the acquisition of control over the future. Chan needs to hunt down a crazed Brunson in a chase that will lead him far away to the Wild West and Nazi Germany in order to save the future.
The action hero of the 90 Jason Scott Lee and Thomas Ian Griffith returns in the sequel film of 1994. Pleasantly surprised, because this film was quite good and a good Thriller. However, to the level of van Damme's certainly not reach.
Ryan Chan And Brandon Miller — companions that return escaped criminals. Once in Nazi Germany Miller wants to kill Hitler, but Chan stop him, because you cannot change the past. Chan has to kill the Miller's wife, and he himself put in jail. 2 years later Miller escapes and tries to destroy the Ancestors of Chan in the past.
Unlike the first film, here you will visit and the fascists, and in the Wild West and many other places. The special effects are quite good for a DVD format.
Also compared Lee and Griffith with the same sample 95-99 years. If still in good form. And the figure is great, and kung fu is not bad. But Griffith is clearly deteriorated. Is not the same, can hardly rise, but charisma in it still kind of is.
The film belongs to the category, which you can stop looking, because nothing to lose, but you can see the worst of this will not be exact.
Screenshots
Download
 Timecop: The Berlin Decision 2003