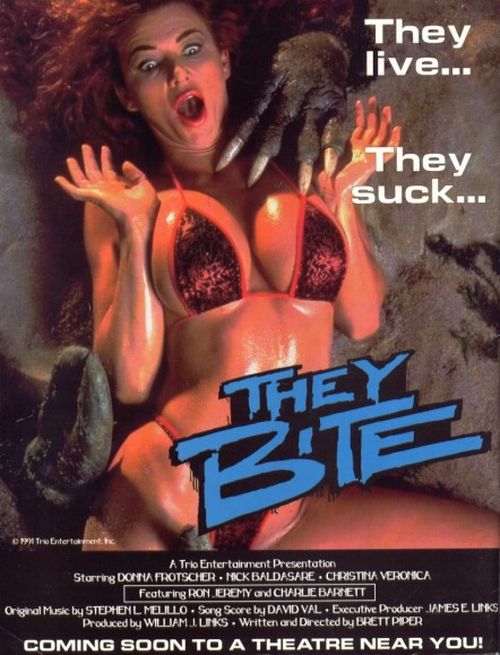 Year: 1996
Duration: 01:40:54
Directed by: Brett Piper

Actors: Donna Frotscher, Nick Baldasare, Christina Veronica

Language: English
Country: USA
Also known as: 
Description: They Bite. This is a rip from a VHS copy I have. I thought I had the DVD, but all I can find is the VHS. The thing is that this movie really doesn't need to be from a DVD to watch anyway, it wouldn't help. This movie is pretty bad, well it Bites. I paid $3.98 for this from a used book store, and I probably paid a little too much.
Anyway the plot is basically a cheap ripoff of Humanoids From The Deep, but with Ron Jeremy. Really he's in this! Anyway, there's a film crew trying to make a high concept porno about fish monsters raping women, and it turns out that the little sea-side town that they go to shoot in really does have fish monsters that rape women. There's also a bitchy ichthyologist with the same name as the porn director and some convoluted side plot about aliens.
The point is Ron Jeremy's in this and it's not porn, and he doesn't even play the porn star in the porno within the movie. He's a camera guy or something.
As bad as it is, it's entertaining. Actually it's entertaining because of how bad it is, and it has Ron Jeremy, nude women, and fish monsters.
There's also a guy from Miami Vice (Charlie Barnett) who played Neville 'Noogie' Lamont. This was his last movie before his death in 1996.
From director of Bite Me! and Shock-O-Rama
Review: After reading some information about the movie They Bite in the internet, I decided to watch it. You probably know that I'm drawn to those films that have little voices, reviews, and information too. I did not want to run to the shops and look for this movie on the disc, it was easier to find on the Internet. Cinema interested in not only this, but also the face on the monster that was in the picture film. Well, after viewing the impression that this movie was filmed, probably, not only for money, but rather for themselves. Nothing professional in it, all done quite modest and moderate, but not too far from some of the things that's important too. But, in truth, after only forty minutes after watching, I was somehow boring, but still finished watching the movie. It lives up to its year, namely 1996, but I have sometimes thought that he filmed specifically for the horror 80s. Yes, very much here, this corresponds to. Well, I will speak first.
In the story, the film They Bite is set on the coast of Florida. There are many people who are on holiday, have fun, in general, have fun. In one day, but nearby wrecked ship on which were the barrels of radioactive material. Naturally, it falls into the water and leads to very dire consequences. After that, the water will have a great and terrible chelovekoryby, if you can call them, because these creatures look like and fish, and humans. They begin immediately to carry off yourself all those who fall under the arm, especially inconsiderate people. And it was at this dangerous time in the nearest hotel appears Melody Duncan, a girl who is an ichthyologist, and along the way, and a journalist. She learned of the problem, decides to deal with it herself, despite the danger.
I want to say right away that the film I was more amused than frightened. He probably thought, and as a black comedy. There are many funny moments, as well as the characters. Yes, even these most rybomonstry, which, though severe, is still on them without a smile will not look. If you watch the film, you'll understand what I'm saying. The performances are average, but still I liked them. The atmosphere here is a little scary, well, all at the expense of the ideas that we have presented creators. Music in the film is, but it, again, not enough. I've recently come across something such films where music is not enough. Finally I will say that the movie was mediocre, but you can see if you want some an old black comedy. Personally, I sometimes laughed heartily. Fish amused me.
Screenshots:
Download: