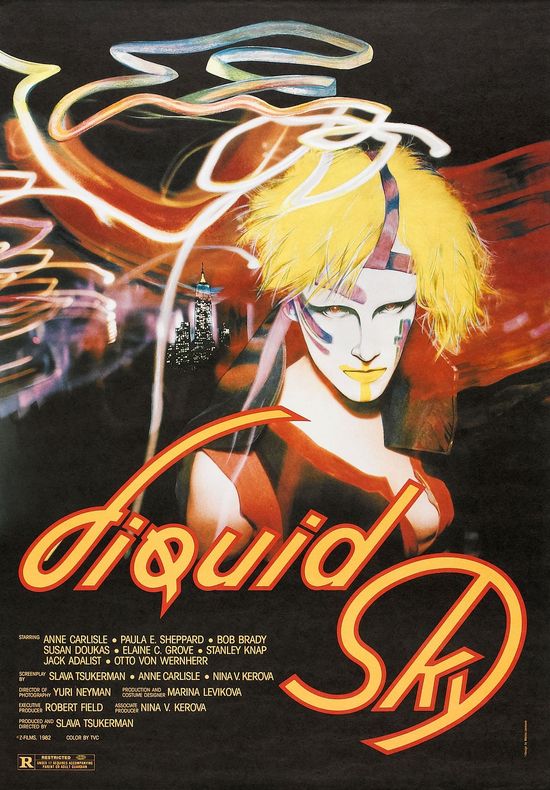 Year: 1982
Duration: 00:53:00 + 00:57:00
Directed by: Slava Tsukerman
Actors: Anne Carlisle, Paula E. Sheppard, Susan Doukas
Language: English
Country: USA
Also known as: Cielo líquido 
Description: Aliens have come to earth in search of heroin. They target the New York punk counterculture. And so begins an absolutely bonkers story told with garish visual flair, a bizarre cross cutting style and a truly wonky soundtrack. Starring Paula E. Sheppard, who also played in Communion movie.
Liquid Sky is a movie which divides people. I'd guess that roughly 85% of people hate the fucking thing. But the others, who generally love it, REALLY love it. I should say, off the bat, that I'm generally deeply suspicious and unresponsive to what I'd term "art college movies" and Liquid Sky certainly falls into this category – with highly stylized acting, heavy low-fi production design and an obsession with fashion. On my first viewing I spent the first 15 minutes totally unimpressed, wondering what the hell this low budget noisy rubbish was. And then I fell, completely and hopelessly, under it's weird spell.
Liquid Sky is a hilarious film. And it's truly one of a kind. I'd cite it as one of the genuine midnight movies made after the 70s (another being Singapore Sling). The low-fi computer graphics during the disintegration sequences still look absolutely amazing and the film has one of the most distinctive and unique soundtracks ever – kicking the shit out of Electroclash before it ever happened.
My advice would be to smoke a joint if you're into that and give this a whirl. You may absolutely detest it but if you're into then you've have found yourself something truly special and utterly psychotronic.
Download: