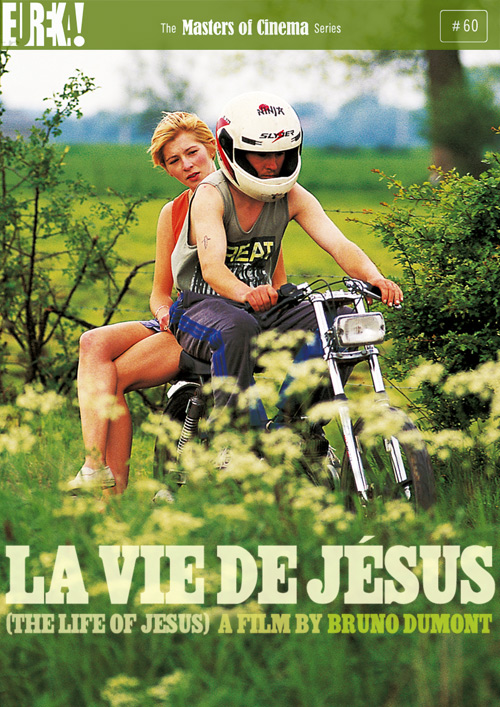 Year: 1997
Duration: 01:32:13
Directed by: Bruno Dumont
Actors: David Douche, Marjorie Cottreel, Kader Chaatouf
Language: French|Arabic
Country: France
Also known as: La vie de Jésus, Das Leben Jesu
Description of Life of Jesus: Unemployed Freddie, who lives in a small town, and subject to all sorts of non-self-psychosis, deep dense and hopelessly degenerate "white" of the proletariat, kills time with friends, riding around the neighborhood on bikes and bullying pedestrians , mainly – Arab migrants.
Freddie has a girlfriend named Maria, who is trying to flirt with a cute Arab named Kader. Is it any doubt that the white hegemonic want to punish the "high-handed" stranger? Inflamed, they set off to the grave, which will lead to irreversible consequences …
Filmed by director of Twentynine Palms in the year 1997
Review: The film tells us about a young man named Freddy. who lives in the French provinces. Freddie does not work, spend the money, the mother and unemployment benefits, for days he rides a motorcycle (and considerably decreases), spends time with his girlfriend, Marie, and fooling around with friends. Freddie sick a disease that is shaking all over his body, it causes the foam from the mouth. Days go by very slowly in this town, and everyone is convinced that the case in energy of these streets, houses and fields, which even the bright colors of the picture, such as painted in gray.
One falls in love with an Arab Freddy Marie and angry, but in fact, faced with a fairly common problem, and that the same and usually resolves.
The film "La Vie de Jésus" is very leisurely. Kinda a fairly non-coercive response Jarmusch, and where there was violence, but that particular emotion, and it is not aroused, the same was shown excessive frankness of the sex scenes. In limited release films, often used this technique, but would add realism, but here, it seems to me, such footage showed only pathetic attitude of the director to such a reception. Frames where were depicted genitalia popped onto the screen unexpectedly, struggling out of the rhythm of the film. Maybe there's not a problem to install.
Flm Life of Jesus looks pretty easy, but something I did not give rest, I still do not understand what is its name. Is Freddie personified Jesus? Or, their fate like? I do not know, Bruno Dumont at all in this sense laconic: he does not like to share your thoughts with zritelyayamya probably makes films exclusively for themselves.
Screenshots:
Download: