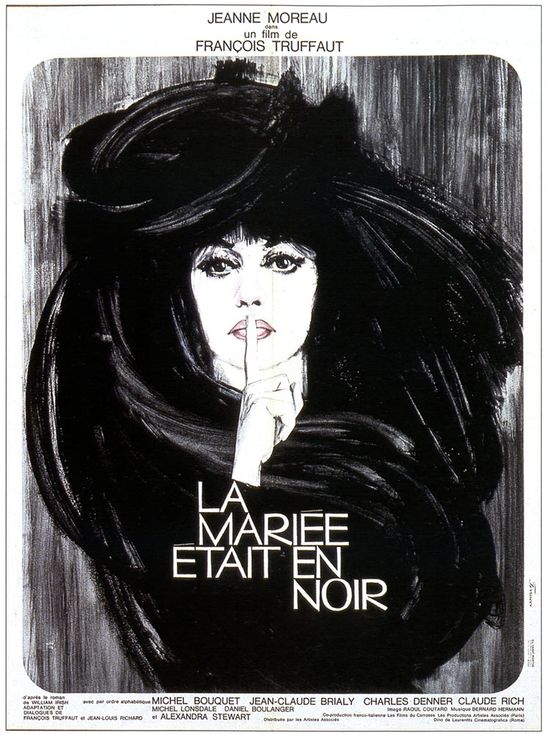 Year: 1968
Duration: 01:43:24
Directed by: François Truffaut
Actors: Jeanne Moreau, Michel Bouquet, Jean-Claude Brialy, Charles Denner and Claude Rich
Language: French (English subs)
Country: France | Italy
Also known as: La mariée était en noir, A Noiva Estava de Luto, A Noiva Estava de Preto, Die Braut trug schwarz
Description:
Revenge – one of the most spicy and interesting themes in art . " The Bride Wore Black " – a decent and elegant film on this subject , with a beautiful cast , the original camera work and a pleasant atmosphere eye Europe 60s .
Heroine Jeanne Moreau – not so much a living woman , as the image of intransigence and the inevitable retaliation. It is stylish , consistency , spotlessly cold-blooded , always sad and very adventurous in his revenge.
Five different men : frivolous womanizer humble loser idealist , chatty narcissist politician , romantic painter and brutal criminal type . They have nothing in common, each has its own life , each of them embodies a certain type of man . But once they joined a tragic accident – and a few years later to each of them came in the form of revenge Julie Kohler .
Francois Truffaut in the film " The Bride Wore Black " explores not only the human personality and describes life drama as chants and uncompromising loyalty to the idea , and even in a highly poetic form.
Screenshots:
Download: