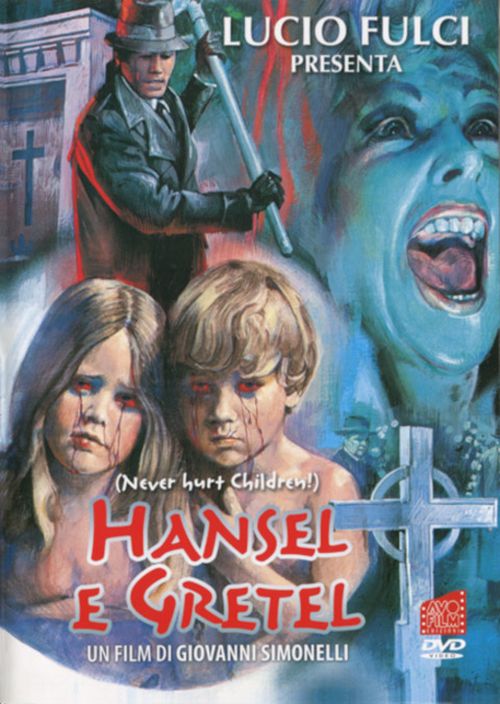 Year: 1990
Duration: 01:26:22
Directed by: Giovanni Simonelli
Actors:  Elisabete Pimenta Boaretto, Lucia Prato, Gaetano Russo
Language: Italian
Country: Italy
Also known as: Die Saat des Teufels, Never hurt children!, Non si seviziano i bambini
Description: This movie is presented by Lucio Fulci (The Sentinel) and directed by Giovanni Simonelli. Gang engaged in illegal sale of human organs, kidnaps two small children – Hansel and Gretel. Children are killed, their organs are transplanted to the rich client. But no one even suspects that children will come and will take revenge, and the criminals waiting for a terrible death…
Review: Of two young children, Hans and Gretel steals and brutally killing gang hunted illegal transplantology. Soon, however, children will return with only one intention: to get revenge.
By the film "Hansel and Gretel", filmed in 1990 by Italian director Giovanni Simonelli, Lucio Fulci has very little to do, because even though Fulci was actually co-directed tape, much to her success did not help, as "Hansel and Gretel" – this is another operational movie, filmed on a meager budget and apparently hastily. The film may not boast of excellent directing, because he removed the operator Silvano Tessichini very standard, murder scenes are not impressive, and the lack of excessive gore, why even as trash "Hansel and Gretel" looks rather weak and unimpressive. The plot also suffers from uneven and logical inconsistency. and the abundance and assorted significant inaccuracies eye exceeds all conceivable limits.
Also particularly nothing to boast of, and the actors involved in the film. Too many characters and seem unsolved tape cardboard, dull and totally uninteresting. Even the child actors are not able to create a truly spectacular and frightening characters.
The soundtrack from the composer Lanfranco Perini also not particularly memorable, for no suspense, no atmosphere in the film, he did not create.
So, the film is standard and banal trash, which can be viewed solely from the interest in the little-known and thoroughly forgotten representatives of Italian horror.
Screenshots:
Download: