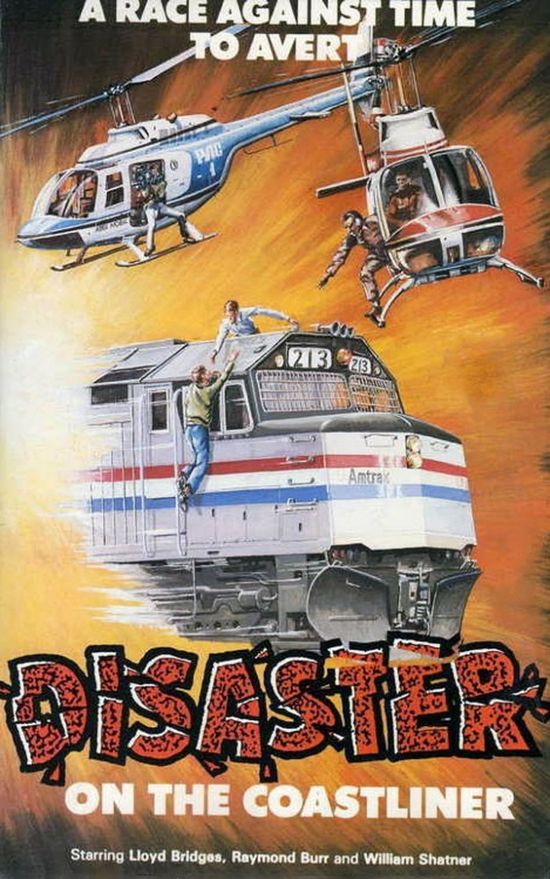 Year: 1979
Duration: 1:27:47
Directed by: Richard C. Sarafian
Actors: Lloyd Bridges, Raymond Burr, Robert Fuller, Yvette Minieux, William Shatner.
Language: English
Country: USA
Also known as: Die Weiche steht auf Tod, Desastre no Trem da Morte, A Tragédia do Expresso do Sul, Den stora tågkraschen.
Description: A grief stricken computer repairman holds a train company responsible for the deaths of his wife and daughter and enacts revenge by setting two passenger trains on a collision course.  A con man (William Shatner) plays hero and tries to save the day.
This made for TV movie aired on October 28, 1979 and follows in the vein of the disaster movies of the 1970s.  It's got a cast loaded with your seventies favorites including William Shatner, Lloyd Bridges, Raymond Burr, E.G. Marshall, Pat Hingle, Yvette Mimieux, and Paul L. Smith.  The film starts out slow but picks up momentum with some pretty exciting scenes with helicopters and the train in the second half of the movie.  If you're a William Shatner fan, this is a must as there are plenty of scenes of him hamming it up.  I definitely consider this one of the better of the made for TV disaster movies.

Screenshots
Download