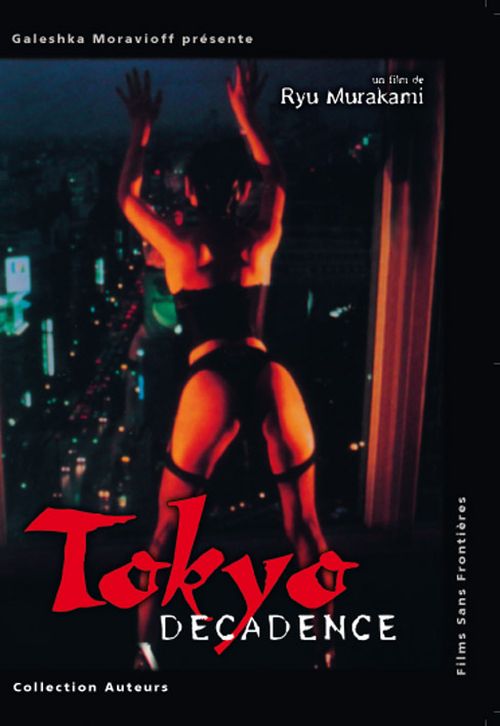 Year: 1992
Duration: 01:48:43
Directed by: Ryû Murakami
Actors: Miho Nikaido, Yayoi Kusama and Sayoko Amano
Language: Japanese (English subs)

Country: Japan

Also known as: Sex Dreams of Topaz, Topâzu

Description: Ai young prostitute ( by the way, in Japanese the name means "love" ) , also received a nickname Topazu, after meeting with musician flagellant Sato , who considered it " the only hope for our rotten Japan" , then passes through the circles of modern hell. She is forced to meet the needs of a notorious , but cruel to their own desires, Japanese businessmen and gangsters , with inescapable melancholy recalling his already sunk into oblivion " teacher ."
Japanese writer Ryu Murakami ( he has no relation to the now fashionable we Haruki Murakami ) from time to time drawn to the cinema , he puts the films of different genres – from fiction to erotica. In the fourth one picture , taken them at age 39 , claims to artistic creativity unmistakable imitation of Nagisa Oshima (" Bullfight of Love" / " Realm of the Senses ") in the creation of philosophical and decadent sexual poem soon become unintelligible and mechanistically uniform . And the state does not save exquisitely sentimental cult music composer Ryuichi Sakamoto .
Full version of the tape containing explicit sexual and sadomasochistic scene was declared in a number of countries categorized as pornographic . And we have tried to recognize it so even in the truncated American version – for example, after the show in early 1994 by the Nizhny Novgorod TV at night, when not sleeping just night owls and prosecutors , insulted indecent spectacle. Obviously, the hardest teased their unintelligibility and encoding seemingly simple human occupation : not only that sex Japanese, he is also aesthetically – mannered . "Erotica is not for everyone " – this is something unacceptable and criminal !

The thin line between disgust and understanding movie bold experiment , which presented to the audience Ryu Murakami . Many come out of the auditorium, others remain , everyone decides for himself which attracts and repels the viewer that in this picture . One thing is clear – this is real art, which casts aside opinions and ratings , which gives reason to think if you want to invent everything that hinted at the director.
Japan country mysteries , Japan country "little" people who do not have the right to openly express their feelings , desires, aspirations and just hotel rooms , but the selling takes their love of what they are , without judgment or publicity.
Many see the film , just like the cover of an erotic magazine with latex and a whip . Others realize that it's just for just a screen behind which is hidden a lot more than just sex . The tragedy of human lives , hopelessness, decay and decadence with the long-suffering loneliness longing for true love , that's what rightfully Murakami wanted to show , that's worth watching this movie.
Even a prostitute who always appears inexperienced virgin in such a complex topic as BDSM, has its own charm and offers the viewer a way to understand the world of erotic perception of Japan.
Screenshots:
Download: