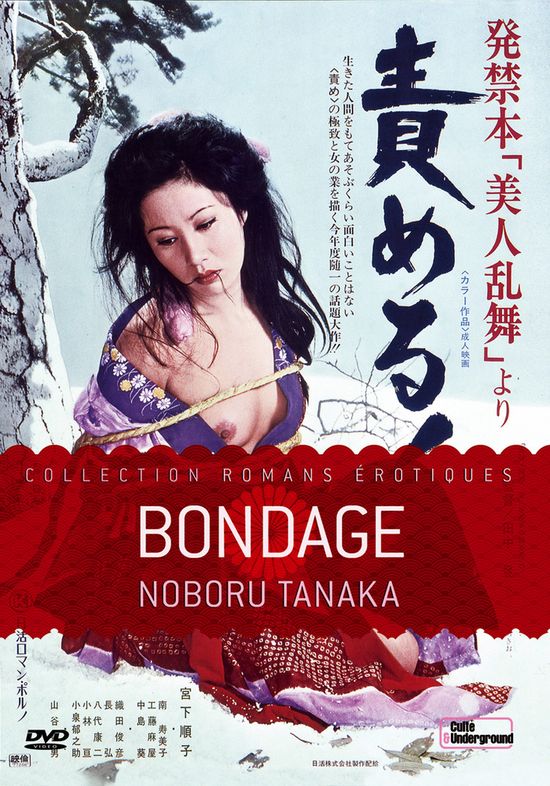 Year: 1977
Duration: 01:00:00
Directed by: Noboru Tanaka
Actors: Junko Miyashita, Hatsuo Yamaya and Hiroshi Chô
Language: Japanses with English subtitles
Country: Japan
Also known as: Hakkinbon bijin ranbu yori: semeru! 
Description: Abandoned by his wife, the artist who creates in BDSM genre, strikes up a relationship with a prostitute, whom he met in a brothel. To continue their studies and creativity to satisfy their fantasies, it starts to put her to torture.

Looks like he knows what women want , because they are one after another fall at his feet – a wife , a mistress. And they want , rather, She , His ardent passion , the former owner of a drinking establishment , and now his main muse and naturschitsa one – of humiliation , pain and suffering. And she can not get enough.
The final part of the trilogy Noboru Tanaka dedicated to the femme fatale in the performance of the Showa era Junko Miyashita , continues the theme of passion and agonizing death, begun in "A woman named Sada Abe " ( another interpretation of the tragic history of the insane , who did not want to let go of her lover , who was also shown in the infamous " Empire of Passion " Nagisa Oshima ) . In contrast to the " Steps in the attic ," the second film of the trilogy , when the director turned to the literary source , the novel Japanese master detective thrillers Edogawa Rampo and in "torture" , he again takes up the life and passions filming real people , in their own interpreting creativity and sources of inspiration Seiya Ito, famous for his paintings and photographs depicting the art of Shibari . This artist preaches beauty binding and hanging naked women , reveling torment victims eyes imploring him to stop the sophisticated , refined torture . But Ty is not such that it does not ask for mercy , and her tormentor only inflame more in the vain effort to catch , capture on film this view , saying "enough" screaming that women will broken. Tae patience easily explained , but no less terrible, and creative way Seiya eventually turns into attempts to give something that can soothe restless soul dying mistress.
Of course, the picture Sprinkle accusations of excessive naturalism and cruelty is warranted , but the film was not in vain called "immoral masterpiece " because rarely in which such cinematographic creation combines erotic sensuality and cruelty upivanie , regularity is happening on screen and seething passions in the soul heroes and – more importantly – the audience . Indeed, the director managed to create such a memorable visual images , they again and again scroll pictures in memory , whether static shots beauties suspended or laconic , atmospheric scenes of torture in cold snowy forest . Slow but expressive dance exotic beauties Japanese Junko Miyashita in the best traditions of pinku eiga surely remember you , and therefore receives
Screenshots:
Download: