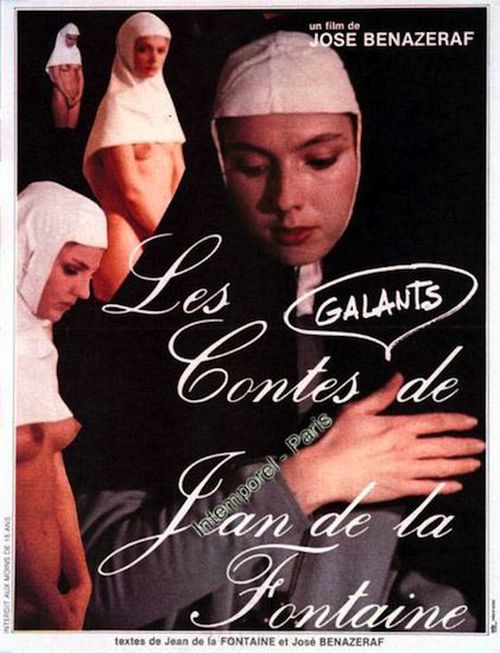 Year: 1980
Duration: 01:14:28
Directed by: José Bénazéraf
Actors: Paul Bisciglia, Julie Arnold, Magali Llorca
Language: French

Country: France

Also known as: Sesso buffo
Description:Jean de la Fontaine  was a XVIIth century writer. He's most famous for his fables, often inspired of Aesop's, in which he satirized society, using animals as a symbol of human behaviour. Although the fables were not specifically written for children, there's nary a French pupil who hasn't learned at least one at school. But La Fontaine also wrote a number of tales of a decidedly naughty persuasion, and he did it with the same wit as ever, which makes them delicious.
José Bénazéraf was a XXth century director who worked the whole spectrum of erotica, from sexy thrillers to hard core porn, and was something of an intellectual. Sometimes, that last quality made him boring as hell, such as in Le désirable et le sublime (José Bénazéraf) but it could also make him delve into classical litterature in order to produce the little gem that is Les Contes Galants de Jean de la fontaine.
Why this movie is not here already is beyond me : I found it on a very obvious blog when I googled the title. The reason I googled the title is because I saw the reference on the imdb page for Chistiane Jean who once played Cosette in the 1982 version of Les Misérables, which happens to be one of my favourite movies and probably too damn good to be uploaded here. In the La Fontaine/Bénazéraf movie, Christiane Jean plays a lusty maid and I dare say her talent is more suited to exploitation than melodrama. And she certainly isn't the only young lady to display her charms in this movie. Prominent among the others is Muriel Montossé, of Jess Franco movies fame.
OK, this is no masterpiece, mostly because of the acting. The dialogue, whether it's taken straight from La Fontaine or slightly rewritten by Bénazéraf, has a definite classical theater feel,  and none of the actors have received classical training (either that or they were bad at it), so almost nobody can say their lines, but the fault is counterbalanced by the fine direction, the gorgeous costumes and sets, and the witty naughtiness of the four tales that the movie adapts. Not to mention, of course, a lot of nudity, but I think I alluded to that already.
The last, longest and best of the tales has naked nuns, which ties the movie to the nunsploitation subgenre. Need I say more ?
Screenshots:
Download: