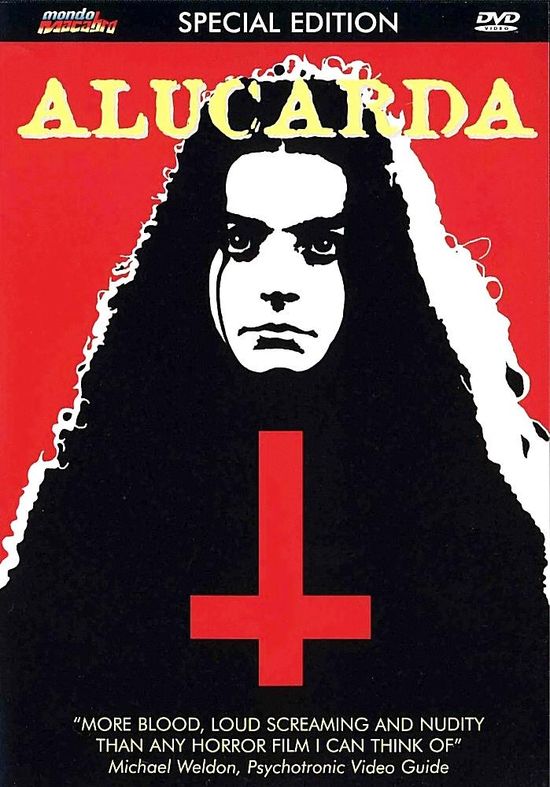 Year: 1978
Duration: 01:17:55
Directed by: Juan López Moctezuma
Actors: Claudio Brook, David Silva, Tina Romero, Susana Kamini, Lili Garza
Language: English
Country: Mexico
Also known as: Sisters of Satan, Innocents from Hell, Mark of the Devil 3
Description: Strange, morbid and fascinating Mexican horror film by former Jodorowsky collaborator Juan López Moctezuma. Makes a great double feature with another Mexican nunsploitation-horror Satánico pandemonium btw.
Review: 1865. Justine orphan brought to the monastery, where it is taken into the care of the nuns in suspicious bloody clothes. There she meets a girl Alucarda, which they quickly become friends (and lovers). Once they wander too far away from the monastery, meet on the road of a humpback kozloborodogo Khmyrov and discover an ancient castle, where, during an occult ritual to negligence (yeah, how) rescues the devil, which makes them both. Quickly discover that a nun, and trying to "clumsy" methods withstand raging kids …
Despite the analogy with the film by William Friedkin's "The Exorcist" (which went to the theme of obsessions), "Alucarda" is still a bit in another weight class. That can be easily seen on the plot. Mexican Juan Lopez Moctezuma (the director of Mary, Mary, Bloody Mary), who had once been crazy movie producer Alejandro Jodorowsky, it still paints a picture of a gloomy atmospheric church community and its alternatives, at least dumb clan name of Satan. The naked vampire on the type of Countess Bathory in a coffin with blood, ritual initiation, sadistic methods of exorcism, bloody rain, flammable nun. What is there just is not namutil Moctezuma. But what is even more interesting by analyzing the eternal opposition between good and evil, the director is clearly in no hurry to take the side of the church. He puts it rather pathetic hramikom-lock-in which people, burdened with sins, deprive themselves of freedom, following the ridiculous dogma and having at least dumb rituals such as self-flagellation. Representation in all its glory the forces of evil and creepy organ music – "Alucarda" allegedly acted under the strict guidance of Anton La Vey.
Screenshots:
Download: