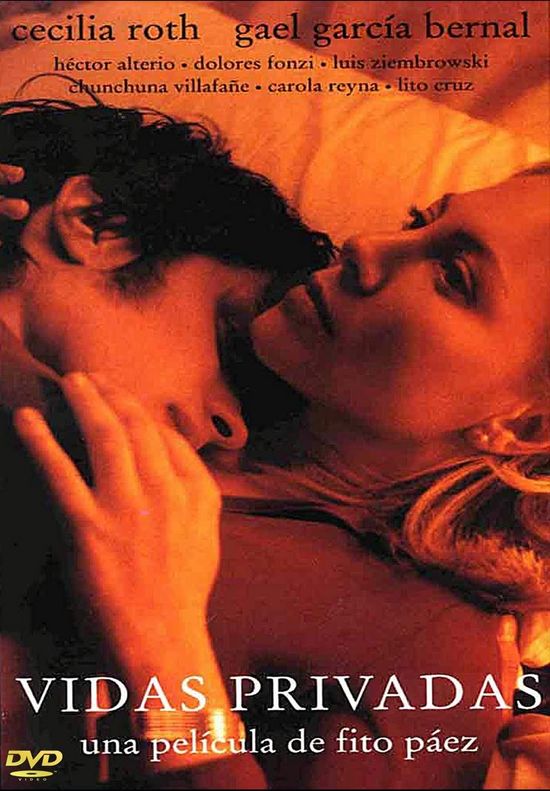 Year: 2001

Duration: 01:33:22
Directed by: Fito Paez

Actors: Cecilia Roth, Gael Garcia Bernal, Luis Ziembrowski

Language: Spanish (English sub)

Country: Spain | Argentina

Also known as:  Private Lives 2001, Vidas Privadas, Enohes sheseis, Zycio-rysy

Description: After spending 20 years in exile, a cool-headed and practical Carmen returns to her native Argentina, where she is waited by her dying father. 10 months in the torture chamber of the junta have forever changed the once cheerful and sociable woman.
Now she hides her feelings under a mask of indifference, leading a double life: Carmen secretly rents an apartment, where she invites couples that they were making love, not seeing her. Once this ritual can give her pleasure, but once it is broken when she is particularly interested in the voice of the unseen man called Gustavo.
Soon, between them happens a strange connection, desperate and impossible desire for love that will lead them to a terrible tragedy …
Review: Full-length directorial debut Private Lives of 38-year-old Argentine composer and songwriter Fito Paez starts as a full covert and overt defects psychological drama about a sharp sense of alienation felt by the 42-year-old Carmen Uranga, forced to leave her twenties from Argentina to Spain, where it has made quite a successful career, but found no satisfaction in the intimate sphere. Carmen is obsessed with specific sexual contacts, which can not be called traditional. She is able to perceive only the "auditory form of voyeurism," that is coming to an excited state, not so much a stranger peeping sex as overhearing something like a wall specially rented apartment making love Invited for the money people. But she Carmen masturbating at this point, bring himself to an orgasm.
But now on, instead of the Latin American version of "The Piano Teacher", suddenly be openly political film that deals with painful for Argentina (and other countries, where reigned terror military junta) themes of persecution and torture of those who are wicked regime. And if all ends in the Greek tragedies of the fatal involuntary incest, when the participants reach a taboo too late to learn about the true causes of unexplained attraction to each other and inevitably have to pay for what he did. And then not do without the injection of passion in the spirit of sultry melodrama. So the finale of Private Lives most viewers will be completely disoriented as to what kind of movie they still watched.
And just knowing that Fito Paez put this tape to his wife, the famous Argentinian and Spanish actress Cecilia Roth (Sofacama), which, among other things, his senior by seven years, one can assume that the novice director is more worried about is not the political component of the stories, and psychoanalytic awareness of their latent "filial complex." In this regard, no coincidence that the most compelling character, even in situations of unconvincing Gustavo is a young guy who is the most accurate and without any false played a promising Mexican actor Gael Garcia Bernal.
Review: Carmen Uranga is a seemingly typical woman 42 years. But only a few know that she had to endure during the dictatorship, so it is a return to his native Argentina to be called happy. It was here, at home, she has to face his past and find a love that would be fatal.
Erotic and psychological drama "Private Lives", which became the directorial debut of the famous Spanish singer and composer Fito Paez, I looked only for the sake of playing Cecilia Roth, who played Carmen very boldly, and Gael Garcia Bernal, brilliantly performed the role of a mysterious Gustavo.
The film Private Lifes is a semi-tone, so to call it a shocking does not. Also in the film a lot of innuendo and outright mysteries, but if you know the story, especially in Latin America of the 20th century, the film you will understand and feel from the beginning to the end, until the last frame.
In many ways, the film "Private Life" tells the audience the story of a family caught in a millstone stories. Many people end up mentally break down and go crazy and the spectator sees it as an example Carmen Uranga. It was there that focuses the attention of director and cameraman Andreas Mazzoni, it was she who prevails in the whole movie and can not understand this picture without taking the heroine herself.
Special, sadly tragic atmosphere in this film creates music Fito Paez and Gerardo Gandini. This depressive motif long in the head after watching the movie.
So, I recommend this film to all fans of auteur cinema, and especially its Spanish destinations. I think the movie will not disappoint you and will make a lot to think about.
Screenshots:
Download: