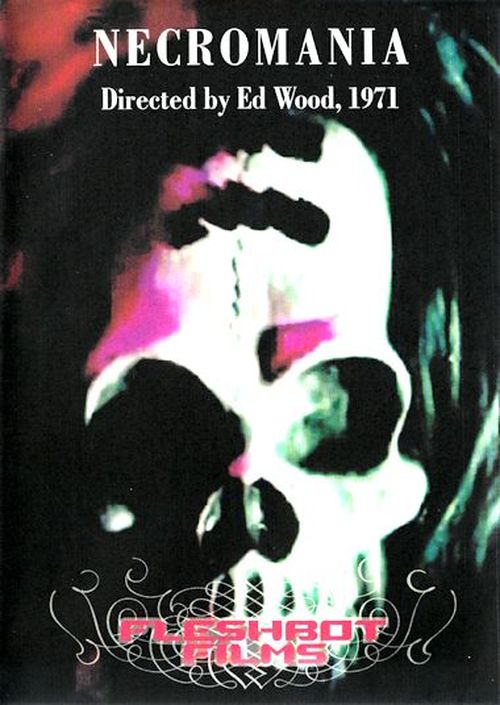 Year: 1971
Duration: 00:53:53
Directed by: Edward D. Wood Jr.
Actors:   Maria Arnold, Rene Bond and Ric Lutze

Language: English
Country: USA
Also known as: Necromania
Description: Danny and Shirley are having sexual problems, so they decide to get help at the creepy old house of the mysterious Madame Heles (because satan worshipping witches were the 1970's version of viagra).  The solution to their sexual dysfunction issues involves skulls, peepholes, witchcraft, lesbianism, and getting it on in Criswell's coffin.  Sexual hijinks ensue in true hairy-muff balls-in-your-face 1970's porno fashion.
NECROMANIA is one of the late great Ed Wood's very last directorial efforts.  Nearly lost forever, Wood's fans refused to let NECROMANIA die, resulting in this DVD release of both the softcore and hardcore versions (from the only surviving prints of each).  If this film can be found and digitally preserved, can LONDON AFTER MIDNIGHT be far behind?
Cult director Ed Wood's decline into alcoholism and smut films began in the early 60s.  By 1970 he had moved from the "nudie cuties" he wrote and co-directed with Stephen Apostolof (such as ORGY OF THE DEAD) and graduated to full-on XXX porn features.  Based on his own smut novel "The Only House", NECROMANIA was one of the last films Wood directed.  Made on the cheap, it was shot on 16mm film in a motel room over the course of 2 days for about $7,000 (an ultra low budget even by Ed Woodian standards).  Released in 1971, our highly sophisticated carbon dating of Rene Bond's breast implants reveal that this was probably actually shot in 1970.  Wood hired two camera operators, as one of them refused to film any of the hardcore shots.  As a result, he shot both a 51 minute softcore version and a 54 minute hardcore version, both of which vanished from view shortly after their 1971 release and were thought to be lost forever.
Screenshots:
Download: