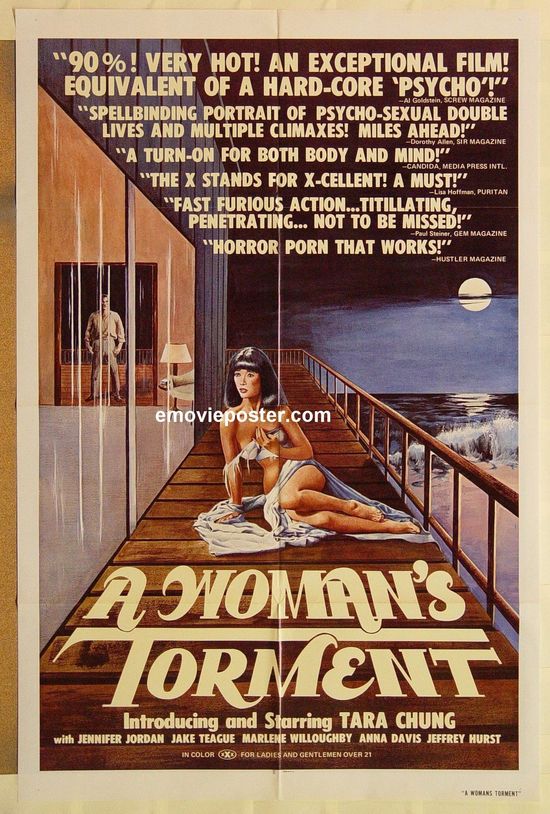 Year: 1977
Duration: 01:24:52
Directed by: Roberta Findley

Actors: Tara Chung, Jennifer Jordan, Jake Teague

Language: English
Country: USA
Also known as:L'altro vizio di una bocca, Tormento de uma Sensual
Description of Woman's Torment: 70's porn/psycho thriller with lots of hairy muff about a psycho killer skank hiding in her sisters beach house, fucking and killing anyone who comes her way. Not much to wank to though, 70's sex just don't do it for The Penile. Peeps just didn't know how to fuck back then. Good movie though.
Review of Woman's Torment: This one is as much a horror movie as it is a sex film, if not more so, and the results are pretty interesting.
An interesting blend of a Psycho inspired slasher with a hardcore sex film, A Woman Tormented is actually a pretty excellent movie. Tara Chung steals the show as Karen, the woman with deep psychological problems who is very much a 'black widow' who does in every man who crosses her path. She gives an inspired performance, and we're actually able to believe that she is as messed up as the story would like us to think, as she curls into the fetal position in the shower to avoid the voices she knows she shouldn't listen to. Seeing her masturbate with almost self destructive glee after giving in to her bloodlust and returning to the shower to clean herself off solidifies her state for us, and we know she's completely off her rocker.
The cinematography is lush and appropriately melodramatic, focusing as much on the waves crashing against the shore and the loneliness of the location as on the sex, though it doesn't skimp there either. As with The Tiffany Minx, the film is an interesting and genuinely engrossing thriller as much as it is a porno film. Be that because it was directed by a woman and therefore shot with a different sexual being behind the camera than your average male porn peddler or be it because Findlay wanted to make a real movie, it's a very well made movie with tension, intrigue, drama, and of course, sex.
Screenshots:
Download: