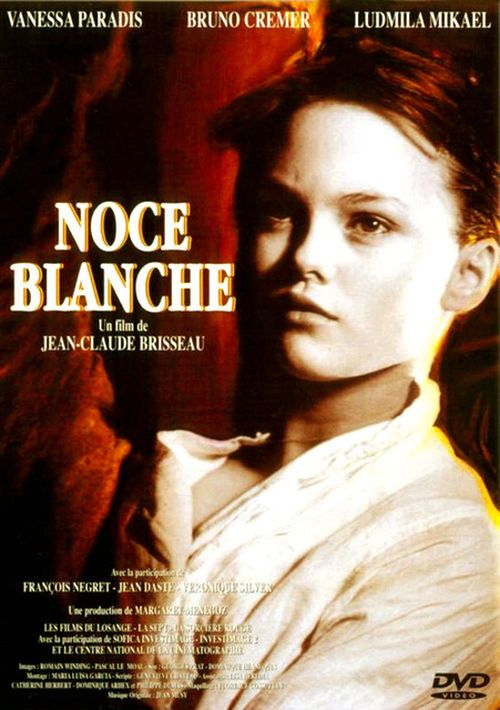 Year: 1989
Duration: 01:28:35
Directed by: Jean-Claude Brisseau
Actors: Vanessa Paradis, Bruno Cremer, Ludmila Mikaël and François Négret
Language: French (English subs)
Country: France
Also known as: Noce blanche, Baby Blue, Boda Branca, Weiße Hochzeit
Description of White Wedding movie: From the first minute we show the vicious angel descended from heaven in the face of Vanessa Paradis. She's 17 , she's smart for his age , sexy, beautiful. Girl with the plight . Just show us the Bruno Cremer as a teacher of philosophy. He's a grown man, arranged with life, which would seem to have nothing new is required. Francois unexpectedly understand how the mind has his student and tries to help her up from the bottom . They spend a lot of time together, and Francois did not immediately notice that irreversibly fascinated young Matilda .
Who of us in his youth did not fall in love with older men , whether it be a teacher , a neighbor on the landing , or a famous actor / singer ? I think a lot of people . Therefore, the "white wedding " does not leave indifferent . This is a serious story , which has reached more than originally anticipated .
Actors in my opinion matched perfectly. Vanessa Paradis spite of his years , has played a pretty convincing. I've never been a fan of her , but after watching a few movies with her participation, changed her mind . She is damn good , charming and honest .
Finally I want to say that I was one of the main characters do not blame their actions. Someone have the courage to meet his love, some do not . In the end, we're all human , we all make mistakes …
Directed by Jean-Claude Brisseau, who also filmed Secret Things and Exterminating Angels

Review: A priest, a doctor, a teacher, a psychotherapist … Between these activities there are similarities. For any of these professions people come for healing. From doubt, disease, ignorance, mental troubles … Come initially aware of their weakness, and hoping to help more experienced in matters of interest. What is the power and the responsibility that falls on the shoulders of the ministers of religion, science, and knowledge! Revel in the power of many. Depth of responsibility realizes not everyone.
The film "White Wedding" is not so much about love, but about responsibility. Of course, each of us is responsible for their own destiny every step perfect. But if you judge the souls of the people (even in the form of putting their school grades), you're talking about is immeasurably greater responsibility. Because you are particularly subject to the rules laid down by Kant: "Live so that your behavior could be a categorical imperative for everyone living." If you are a spiritual leader, you lead the confidence of you. And if tomorrow they fell into the abyss, going after you, of wine on you.
Screenshots:
Download: