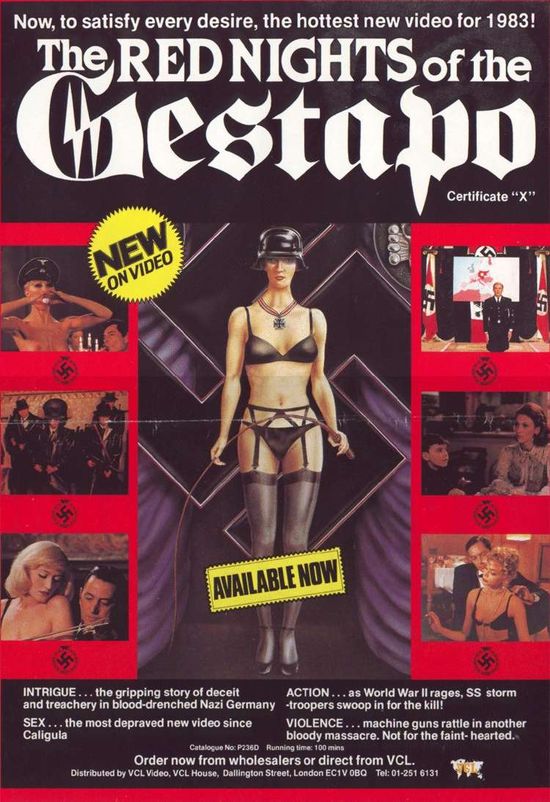 Year: 1977
Duration: 01:50:22
Directed by: Fabio De Agostini
Actors: Ezio Miani, Fred Williams, Francesca Righini, Rosita Torosh
Language:English
Country: Italy
Also known as: Le lunghe notti della Gestapo
Description: Gestapo officer brings 12 influential Nazis in the castle on a sex weekend. There they are waiting 12 gorgeous girls, coached to the most sophisticated sexual fantasies. What will follow during the unbridled orgy ruled by sex and violence, when in reality become the most crazy desire? This movie is from Fabio De Agostini, the maker of Helltrain
Film Tinto Brass' Salon Kitty "was more than just an erotic variation on the theme of the Third Reich. This film, along with "The Conformist," Bertolucci's "Gotterdammerung" Visconti and "Ilsa she-wolf-SS" touched on a very sensitive layer for many issues. These issues can be termed as "Sexual myths of the Third Reich."
Of course, one way or another, these questions were related to the relationship of eroticism and power madness. It was almost a "manyachnaya" theme.
Moreover, this issue has caused a lot of critical reviews, as well as some interest. Therefore, almost immediately took a few ekspluateyshn movies.
"Red Nights of the Gestapo" - one of them. It's a simple, straightforward movie, I try to cover the topic of "private brothel in the SS." The focus here is on showing some perversions.
This is probably all that can be said about the plot of the film, not including references to the unexpectedly brutal ending.
Straightness and tastelessness which shot the film leaves no scope seriously relate to this picture. Her falling into some of the best horror tops or "manyachnyh" films, it seems quite random and baseless.
In the end, I would not recommend this movie for viewing. "Salon Kitty" as well as "Ilsa SS-wolf" from different angles, but very clearly indicated in the title opens the film questions. Although, of course, the most accurate movie here - "Twilight of the Gods" Visconti.
Screenshots:
Download: