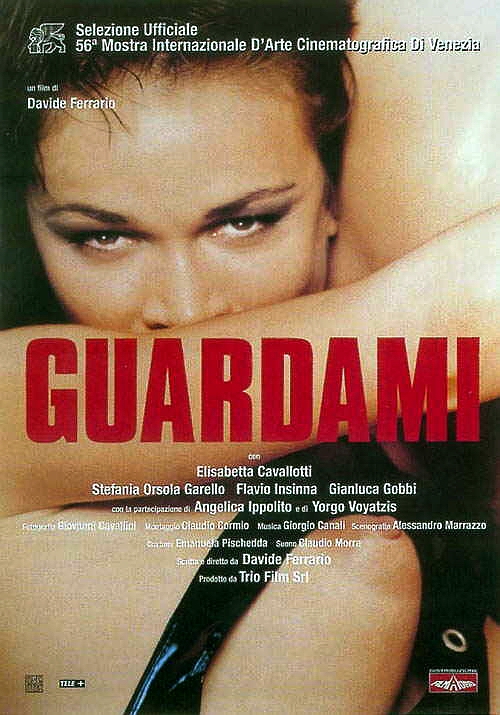 Year: 1999
Duration: 1:30:21
Directed by: Davide Ferrario
Actors: Elisabetta Cavallotti, Stefania Orsola Garello, Flavio Insinna
Language: Italian (English subs)
Country: Italy
Also known as: 
Description: Nina is acting in porn films. She is 28 years old, and so she makes her living. She enjoys the work, while the colegues consider her a rebel. But she has no husband-manager. She is very independent and does what she wants. She lives with Christine, editor of one porn magazine. They love each other, although it is clear that this is a temporary alliance. You may think that Nina - just an object of desire of men, but in fact she is supreme over them, cynically using their body.
Review: Mixing detached pornographic throughout the duration of the picture with the usual mild drama Guardami, apparently the biography, Ferrara ("o" in the word is not too much!) Dooms his work an obscure and irrelevant to the viewer almost any category. Story of a girl whose life revolves only around filming in porn is so boring that you understand that here it is for some of life - as in the song Mylene Farmer «san cotre facon», without cheating. Life where you are lonely, even when you have a girlfriend that you love, there's a really interesting job - fuck on camera, plunging into fantasy in the pool, where even a deadly disease are not afraid, because everything seems calm and beautiful. Perhaps this biographical picture brings the story to the usual description of the life of porn actress though. Devoid of bright emotions, deep nerve or perezhivaniygeroev thoughtful, subtle relationships between the characters, the art kinopornoshtuka is only biography of one of the destinies of a human body, with which we are.
But what a sentence in the middle of Guardami played at the site, where the shooting of another thematically porn movie when the director walks past couple conducting their free time for the same, surprisingly occupation - "Stop fucking! We are working here. "
Screenshots:
Download: